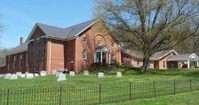 History of Zion
The members and friends of Zion Mennonite Church that are active in congregational life come from two primary areas.  The largest segment of the congregation comes from the rural area surrounding the church, including Broadway and Daphna.  A significant amount of members also comes from the Harrisonburg area, primarily the Park View area surrounding Eastern Mennonite University.
Zion Mennonite Church originated as one of several churches the Mennonites built north of Harrisonburg.  The first meetinghouse for the Zion congregation was built in 1885.  During this time, regional worship services were rotated weekly between a number of locations.  Prior to 1947, worship services were held in the Zion meetinghouse on the 2nd and 4th Sundays of each month.  Trissels and Lindale were two other congregations that were involved in this rotation.  After 1947, Mennonites were encouraged to attend weekly services at Zion or Trissels, depending on their proximity to the meetinghouse with Route 42 becoming the dividing line.
The congregation has moved with the changing dynamics of Mennonite life.  Over the years, the leaders have sought to uphold the teaching positions of the Mennonite church as understood by the Virginia Conference of Mennonites.  At times, this has been painful for some families in the congregation who were seeking to adapt to cultural changes.
With the pastoral transition that occurred in 2003, the congregation has identified three primary areas for growth.  First, the congregation is seeking to meet the needs of the Daphna area and Broadway community.  This mission is focused upon the idea that the congregation resides in this region and needs to provide spiritual care to those who live in proximity to the meetinghouse.  Second, the congregation is seeking to reach out to college students in the Harrisonburg area.  This occurs through building relationships with college students that attend the worship services of the congregation.  Finally, the congregation has a special relationship with Pleasant View – a ministry that seeks to meet the needs of mentally disabled persons.
The congregation has experienced the joy of musical talent in the congregation.  The current music style for worship is a blended style of worship that values congregational singing with both hymnal and contemporary music.  There is an important emphasis on Christian Education that occurs each Sunday for all ages.  The congregation encourages and supports short-term and long-term mission assignments for their members.  Finally, the pastoral staff is available to members of the congregation, their friends, and the community in times of crisis and for other spiritual needs.
Zion Mennonite Church continues to seek ways to be a missional church that shares the good news of Jesus Christ and calls forth and trains leaders for the ongoing needs of the church.