ZMC Information/Events,  
You are invited to the Daphna Music Sunday on August 25 in the tent on the ballfield at 10:00am.  Please invite your neighbors and friends, bring your lawn chairs and blankets and plenty of food for the fellowship meal.  We don't want to run out of food for our guests.  http://www.honeytown.band/bio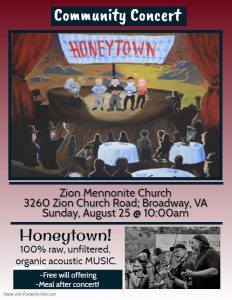 Please make sure all drinks in the sanctuary are in a closed container.
Please see an usher if you need a hearing assistance device.
News due for Windows into Zion newsletter (1st Sunday each month) – Share your news with Kathy Alderfer or Carlene Lantz.
~~~~~~~~~~~~~~~~~~~~~~~~~~~~~~~~~~~~~~~~~~~~~
Children's S.S. – Bring your children to Jesse, Dawn, and Sarah under the oak tree out front between 9:25-9:30. If there is inclement weather, please bring them to the Gathering Room downstairs. Children will return to parents at 10:15 in the fellowship hall.
Help support Ethan Gingerich as he works with Engineers in Action to build bridges with university chapters of engineering students in Bolivia and eSwatini. Contributions can be made by following this link. $6,150 is needed to provide 3 temporary staff members and expenses for the next 3 months.
Zion's Safe Church Team is pleased to present ZMC's Child and Youth Protection policy, shortened copies of which were given in your church mailboxes. Full copies are available on the back table in the foyer and on the Zion website. The Safe Church Team and the Congregational Leadership Team are seeking congregational approval of the policy at the Fall business meeting and we welcome your questions about the policy and next steps.
You are invited to enjoy a light lunch provided by the Safe Church Team on August 11 following the worship service. Come to hear a story of our Safe Church journey at Zion, a brief overview of the policy, and to learn how simple it is to become an approved adult. Please sign up on the bulletin board or rsvp to Karla Souder by Thursday August 8 so we know how much food to prepare.
Thanks for considering joining us.
The Safe Church Team: Paul Leaman, Karla Souder,
Jesse Compagnari, Gen Moyer-Groff and Pastor Sarah
~~~~~~~~~~~~~~~~~~~~~~~~~~~~~~~~~~~~~~~~~~~
Elwood Yoder's MC USA delegate report will come in three parts: First, you will see an article in the August Windows about his week as Zion's delegate; Second, you will hear of Elwood's delegate experience in an August 18 Sunday morning verbal report, with the youth who went to Convention; and Third, you will read a paragraph in the July 10 CLT minutes which come into your boxes in August. Elwood is grateful for Zion's trust in sending him to this convention as a delegate.
~~~~~~~~~~~~~~~~~~~~~~~~~~~~~~~~~~~~~~~~~~~~
Celebrating One Another
Zion's Summer 2019 Sunday School Program
9:30 – 10:10 a.m.
Format:
9:30          Welcome & opening words
9:35           Sharing, presentation, activity
10:05         Q & A
10:13          Closing prayer of blessing
10:15          Fellowship until worship time
| | | |
| --- | --- | --- |
| Date | Person(s) Sharing | Topic-(Draft Title) |
| August 11 | Joy Yoder | Connecting with others through seams. |
| August 18 | Brenda Fairweather | Creative eyes and making something beautiful together. |
| August 25 | Daphna Community Event | No SS Hour |
~~~~~~~~~~~~~~~~~~~~~~~~~~~~~~~~~~~~~~~~~~~~~
(RESERVATION Calendar & forms/info=at bottom of page)…
~~~~~~~~~~~~~~~~~~~~~~~~~~~~~~~~~~~~~~~~~~~
Windows Into Zion news items are due the 1st Sunday of each month.  Please submit your information/pictures about Sunday school, church activities, and family news to Carlene Lantz or Kathy Alderfer. Thank you for sharing!
~~~~~~~~~~~~~~~~~~~~~~~~~~~~~~~~~~~~~~~~~~~~
PRAYER INSERT INFORMATION: Holding one another up in prayer is an integral part of our life together as disciples of Christ. If you have prayer requests that you would like to have included in the weekly insert, please contact Pastor Ervin, Pastor Bonnie, or Pastor Sarah by Thursday at noon to have those items added. Our practice is to leave requests in for three consecutive weeks or until the event or situation has happened or resolved, whichever comes first.
~~~~~~~~~~~~~~~~~~~~~~~~~~~~~~~~~~~~~~~~~~~~~~~~~
Please remember to submit a "Family Details Form" to the office.  Extra copies of this bright orange form are on the information table in the foyer and also available on the website. Please also remember to include birthdates (month/day/year) for each head of household member(s).
~~~~~~~~~~~~~~~~~~~~~~~~~~~~~~~~~~~~~~~~~~~~~~~~~~~
 At Zion Mennonite Church we follow Jesus
as we worship God, nurture faith, minister love,
and share hope with neighbors near and far.
~~~~~~~~~~~~~~~~~~~~~~~~~~~~~~~~~~~~~~~~~~~~~~~~~~~~~~
Women's Ministry:  If you are looking for spiritual daily devotional guidance click here
~~~~~~~~~~~~~~~~~~~~~~~~~~~~~~~~~~~~~~~~~~~~~~~~~~~~~~~~
Please join us on FB:  www.facebook.com/zmcva1 
~~~~~~~~~~~~~~~~~~~~~~~~~~~~~~~~~~~~~~~~~~~~~~~~~~~~~~~~~~~~~~~
Facility Reservation Calendar (Below):
Click here for Reservation Forms & Information 
~~~~~~~~~~~~~~~~~~~~~~~~~~~~~~~~~~~~~~~~~~~~~~~~~~~~~~~~~~~~~~~~