Publications at Zion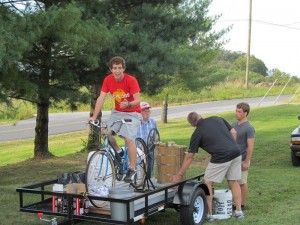 Bulletins are printed each week for the 10:30 a.m. worship services at Zion Mennonite Church.  These feature the order of worship, ministry assignments, up and coming events, youth activities, congregational information, and MC USA & VMC announcements.  They can be accessed by clicking on the "Current Weekly Bulletin" link on the "This Sunday" page of the website, or go to publications, weekly bulletin, 2013 weekly bulletins, and select the bulletin that you are looking for.
Partners in Ministry is a bi-monthly newsletter informing the Zion congregation of news and information within MC USA, the Virginia Conference and the surrounding community.  To view these newsletters go to publications, partners in ministry newsletter, 2013 partners in ministry newsletter, then select the appriopriate one.
'We're Marching to Zion', a book about the history of Zion written by Elwood Yoder is available for $10.00.  Contact the church office at 540-896-7577 or office@zmcva.org if you are interested in purchasing a copy.
"Windows into Zion" has been revived after about a 4-year break.  We welcome submissions for publication from anyone attending Zion.